On Wednesday 19th June we were fortunate enough to be visited by Bishop Terence Drainey the Bishop of Middlesbrough.
During the day the Bishop had an opportunity to visit all the classes, attend a whole school collective worship, meet with staff and children and also bless our new and improved outside area for Foundation Stage.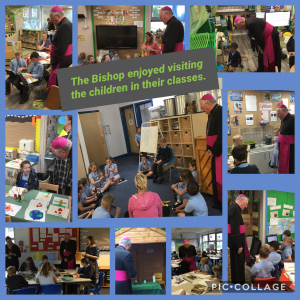 It was a lovely (if wet) morning and the Bishop was impressed with the quality of our singing, the creativity in our classes and the creatures in Year 2.
He was kind enough to answer questions from Y6 about his journey to being selected as our Bishop and we also found out his favourite Saints and scripture passages.