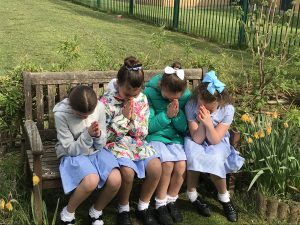 We hope to restart our Masses when Covid Restrictions permit.  Further information will follow at that time.
In the meantime we are conducting online Collective Worship with Fr Cunnah using Google Meet.
Remember that all are welcome to join us.
All Masses begin at 10am. The intended programme, detailing when each class group will attend will always be advised.
Parents and Carers are most welcome to worship with us as Morning Mass is part of the Parish Life of St. Paulinus Church.
Look forward to seeing you there.